Can you effectively operate a business without an engaging company profile? The answer is no, as a lack of a professional and credible company profile can result in failure. Without an effective company profile, corporate websites and printed booklets are incomplete and fail to attract the attention of potential customers. To ensure maximum customer engagement, consider utilizing our agency's company profile writing services. Here are 10 Simple Steps to help you write a company profile.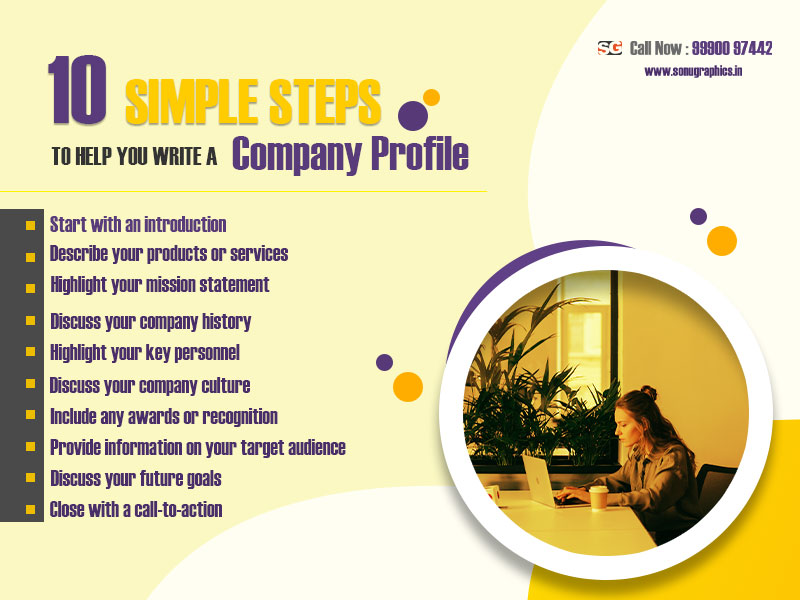 Start with an introduction: Begin with a brief introduction of your company, including its name, location, and what it does.
Describe your products or services: Explain what your company offers, what makes it unique, and how it can benefit potential customers.
Highlight your mission statement: Share your company's mission statement, which explains its purpose and goals.
Discuss your company history: Give a brief history of your company, including how it was founded, major milestones, and any significant achievements.
Highlight your key personnel: Introduce your leadership team and highlight their experience and expertise.
Discuss your company culture: Explain the values and beliefs that drive your company culture and how it influences your operations.
Include any awards or recognition: Share any industry awards, recognition or accolades your company has received.
Provide information on your target audience: Explain who your target audience is and how your company meets their needs.
Discuss your future goals: Share your company's future goals and aspirations, including any upcoming projects or plans for growth.
Close with a call-to-action: End with a call-to-action that encourages potential customers to engage with your company, such as visiting your website, contacting you for more information, or following you on social media.